Desa (Village) Bugbug is one of the oldest and biggest village in Karangasem Regency, East part of Bali. They are geographically positioned at the coastal area. Around Desa Bugbug, you could visit exotic beaches such as Candidasa beach, Pasih Kelod beach and the Virgin Beach. Here is one place that I would recommend you adventurers other than going to its exotic beaches, which is to Bukit Asah.

Bukit Asah
-8.495000, 115.596111
Bukit Asah is a beautiful plateau scenery, located in Bugbug Village, Karangasem Regency. It takes you two hours' to drive from Kuta. Bukit means hill and asah means flat. So, in general it means a plateau on a hill. The deep blue sea, the shore, grey hills, green grass, some trees, blue sky, the breeze, and tranquillity would give you an instant peaceful of mind.
Sitting on the hill and having mini picnic with friends would be a great idea. JUST don't forget to clean up, take your rubbish away with you and leave nothing but a beautiful memory.
Pulau Paus
-8.508889, 115.614167
Pulau (Island) and Paus (whale) which goes for Whale Island. Yes! A Whale Island. It is called so, because the island resembles a whale. Well, it actually does looks like one! The local name for the island is Gili Kuan. It's location is the same area with Bukit Asah. All you have to do is trek a little bit down further to the east side of Bukit Asah then Pulau Paus would be spotted easily – how the part of the whale, like its head, body, its curved tale (curved towards the further east) and a solitary tree – which resembles a whale spouting – is a WONDER!
Campsite
You can enjoy the view and stay overnight at the campsite area. You don't need to bring your camping gear because the tent and sleeping bag are available for rent. Go to the only warung there and ask for it. Cost would be +/- Rp. 100.000 – Rp. 120.000. The tent would fit for 4 people. Remember during camping to keep the place clean.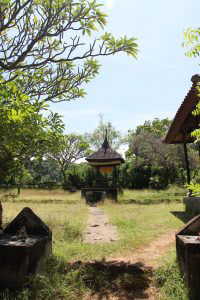 All photographs and videos are taken by Fiona Callaghan.
Note from The Adventuress:
Always stay as a Conscious Adventurer with The Adventuress spirit of Peace, Love, Adventure, Nature, and Positivity or PLAN+ in short. With that, you wouldn't want to harm the nature and destroy it. Rather you would want to explore the earth to learn its beauty as your private experience that will teach you to be a better person each day and value the wonderful creation of God.
Peace & Light,
The Adventuress