1. Benteng Indra Patra
I have to tell you that this place is a must go for a visit if you happen to travel to Banda Aceh! Located at Ladong Village, Masjid Raya District, Aceh Besar Regency this fortress was built during the influence of Hindu times before Islam came into Aceh at 604 AD by Putra Raja Harsya that once ruled India and ran away from the chase of Huna's people.
Positioned by the beach this tourism object is very good for photography. I just love the green grass, classical historical buildings, situated by the beach, nice and quiet, classic swings at a big tree, and scenic hills.
2. Lhok Mee Beach
White sand, clear sea, and lots of trees by the beach, also a place to sit down and drink coconut. The situation is very relaxing and peaceful as long as tourists and locals can take care of their own rubbish. But one needs to be aware of the wild hungry cows that walks down to your table without warning and will gobble up whatever dish you're eating! To be honest its my first time to see a character of a cow like that. Interesting!
3. Gampong Nusa Tourism Village
An ecotourism village that you might want to see because you could interact with the locals and see how they live daily. Traditional houses, paddy fields, mountains and local culture. What else more do you need when you travel there.
4. Geureutee
When you arrived at the destination, you should start sightseeing from up the hill. There's lots of stops for coffee by the road. Once you've settled down you can see a scenic view of islands and blue see from up above there. Then you can travel back down and stop at one of the spot of Geureutee beach. And if you travel further more by car and not far from the beach, there is a road that goes to the left side and you will see lots of crown flower plants. Have a stop and go to your right side and you will see a cave in a distant. Also a good spot for photo.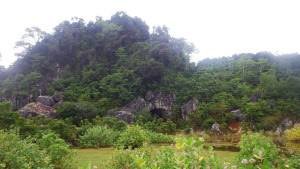 5. Lhoknga Beach
Another stop by the beach for sunset and chilling, sip coffee and snack grilled corn.
6. Tuha Indrapuri Mosque
A unique mosque that was influenced by the Hindu culture. It was built during the Government of Sultan Iskandar around 1607 – 1636 AD. As you can see its roof that looks like a Hindu temple. This Mosque was used to crown the Sultan Muhammad Daudsyah in 1878 AD as the last Sultan of Aceh.
Indrapuri Mosque
Inside the Indrapuri Mosque
7. Gurah Mosque or Al Tsunami Mosque
Gurah Mosque is actually not a Mosque but a dome of a Mosque that was dragged from Lamteungoh Village, Aceh Besar by the big tsunami in 2004. I recommend you to go to this place besides of its wonderful scenery of paddy field and mountains your thoughts would immediately imagine on how the dome was dragged about 2,5km with the a weight of around 50 – 70 Ton. Unbelievable! There is a Musallah that is built beside the dome and many Al-Quran's that was swept and found around the dome during the tsunami that was kept inside a cupboard as remembrance.
8. Culinary
Solong Coffee shop

Have a stop in Solong Coffee shop for Aceh's fine coffee and hot/cold green tea.
Mie Aceh Bardi
One of the busiest restaurant in Aceh. Well, it's worth coming for because the mie Aceh is just delicious.
All photographs and videos are taken by Fiona Callaghan.
Note from The Adventuress:
Always stay as a Conscious Adventurer with The Adventuress spirit of Peace, Love, Adventure, Nature, and Positivity or PLAN+ in short. With that, you wouldn't want to harm the nature and destroy it. Rather you would want to explore the earth to learn its beauty as your private experience that will teach you to be a better person each day and value the wonderful creation of God.
Peace & Light,
The Adventuress