When: An annual event of Festival Pesona Tambora which is divided into three parts; pre-event, main event, and post event. Ziarah Tambora is held at the pre-event. For information please click 
www.indonesia.travel
Where: Gulf of Saleh, Sumbawa Island, Nusa Tenggara Barat. Specifically at the gilis which are, Gili Tapan and Gili Gambus.
Events: Boat parade, traditional local gambus music, sea ceremonial, seminars, film play about "Tambora dan Climate Change: A Year Without Summer", workshop, and Tambora arts.
How: Take a flight to Lombok (LOP) and continue with smaller plane to Sumbawa Island (SWQ).
What:
'Ziarah Tambora – Moving Festival' is part of the Festival Pesona Tambora 2016. This event wants to remind us how once the land is a utopia for people until a massive eruption of Mount Tambora in 1816 had been a disutopia for every single thing. As a matter of fact, it became the world 'year without a summer'. Regarding that, a respect pilgrimage about Mt. Tambora is created through 'Ziarah Tambora' to remember how powerful and meaningful Mt. Tambora used to be for people and every living things. The Sultan of Sumbawa also added that three kingdoms had sunk from the explosion of Mt. Tambora. Since, its a moving festival concept, the events are performed in different islands each day.
As I step my first time in Sumbawa Island, I observed it with pleasure. Well, it was a short trip but it was a picturesque one.
Pendopo
During night time after my arrival from Jakarta, I was fortunate to see an art collaboration of traditional music among 16 artists from 12 different countries around the world inside the pendopo (a traditional house usually used for ceremonies, meeting, event, etc). Each country representatives played their beautiful local music such as from UK, Indonesia, and Africa. At the end of the show they all collaborated together making wonderful mystical tune that will transfer you into your own utopia. It was lovely. Not to forget local gambus were played filling the night.
Gili Gambus
Then the next day, I started off from Jonggar jetty, Bronge District, Labuan Sangur which took me around an hour ride from Sumbawa Besar town.
There were boats moored by the jetty. I instantly assumed that there was going to be a boat parade since colourful flags were attached firmly at every each boat. Once I jumped in on my speedboat, all the boats were parading towards Gili Gambus. I saw kites flew freely among the young blue sky that were tied securely among several boats. It was like magic, as boats float among clear seawater and bright blue sky. I could see small islands here and there as we go. All were shaped with green hills on fertile islands. It was a very very hot day. Sweat was dripping all over my body.

It was a short ride until we reached the destination. All the boats were landed surrounding the small island of Gambus. There was only one big shady tree that fits all of us to protect our head from the burning sun. Then the 16 artists from 12 country came to have a short performance under the tree. Although it was a very hot day, the gambus music were played by them beautifully making people forget how hot it was.
I love Gili Gambus. A small hill island grown with tall wild grass perfect for a photoshoot!
Gili Tapan 08°33'43" LS and 117° 49'14"BT
Then I moved towards Gili Tapan. It wasn't a far destination. Only around 20 minutes away passing through the clean and clear sea from Gili Gambus. Gili Tapan is a populated small island. Mostly the Mandar tribe inhabit the island which derives from Sulawesi Island.
There were only one date tree that lived since ages ago. The locals put a fence around it and have thought it was a sacred tree. There were a couple of local stage houses near the shore. The locals were shy and friendly towards visitors. Once you know them they will have a chat with you.
During the afternoon towards the evening, gambus music were played entertaining the local peoples. Besides that you could document photos and video of beautiful landscapes from Gili Tapan towards Gili Dempu. Very lovely and peaceful.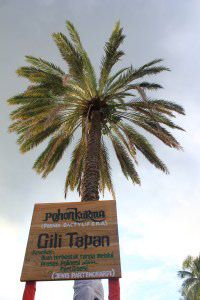 Critics:
Ziarah Tambora were a very good idea. It still needs good management to handle a 'moving festival' concept. Especially, about handling visitors, artists, accommodation, transportation, and coordinating and creating a simple meaningful stage for performers. Other than that, leave it to the beautiful enchanting nature of Saleh Gulf to satisfy whoever visits the place.
All photographs are taken by Fiona Callaghan, unless stated.
Note from The Adventuress:
Always stay as a Conscious Adventurer with The Adventuress spirit of Peace, Love, Adventure, Nature, and Positivity or PLAN+ in short. With that, you wouldn't want to harm the nature and destroy it. Rather you would want to explore the earth to learn its beauty as your private experience that will teach you to be a better person each day and value the wonderful creation of God.
Peace & Light,
The Adventuress